Precursor requirements
For the deposition of the desired target material via ALD or CVD the reactants (metal and co-reactant) are usually introduced in form of metal-halides or metal-organic complexes referred to as precursor. These precursors must meet a good balance between three key properties: volatility, thermal stability, and reactivity (towards the co-reactants).
For ALD, the precursor should possess a high volatility while exhibiting sufficient thermal stability to be brought and transported in the gas phase without decomposition. Additional, a high reactivity towards the functional groups at the substrate surface (such as -OH) and co-reactants is required ultimately enabling the sequenced surface reactions typically observed in ALD. Depending on the technique, these reactions are supported by e.g. substrate heating or a plasma.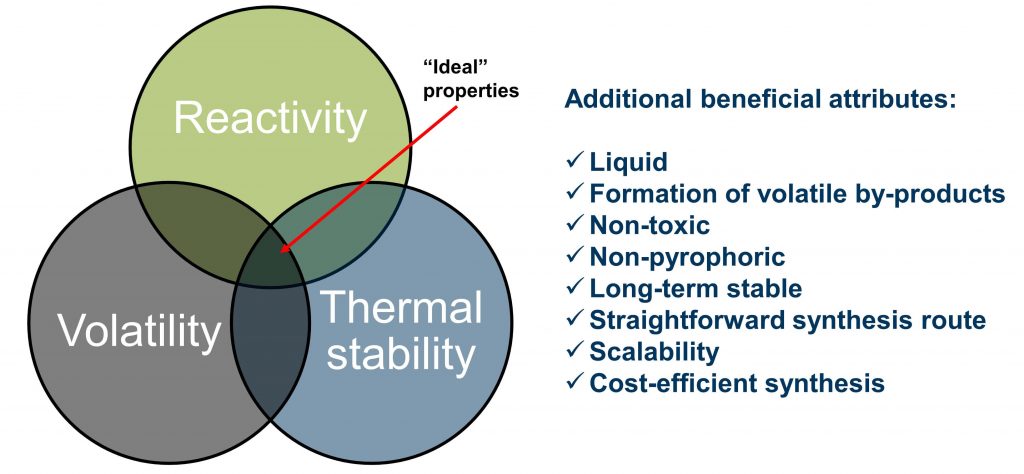 Besides these key requirements, the precursors should ideally undergo clean decomposition and facile removal of the decomposition by-products to avoid incorporation of contaminants which can drastically influence and hamper functional properties of the desired thin film material. Moreover, liquids or low-melting solids are beneficial to ensure a constant evaporation due to constant surface area. For economics and operator safety, a cost-efficient and easy scalable synthesis in combination with a non-toxic and non-pyrophoric behavior is prefered.